Hero image
Hero image
The powerful hero image, completely under your control!
What settings can you make for each hero slide?
Upload an image
Upload an image for tablet computers and mobile phone (optional)
Change titles
Change text
Change title and text colours
Change text position (left, centre, right)
Change text alignment (left, centre, right)
Enable/disable button
Change button label
Change link
Enable/disable the hero image

Go to 'design' – 'customize theme' 'HERO SLIDER'.
Do not forget to 'activate the hero slider' here as otherwise no hero sliders will be displayed.
Is it active? Good, now go to SLIDE 1.
What if you do not want a HERO SLIDER? Simply disable it and proceed with the next steps.
UPLOAD
HERO
SLIDE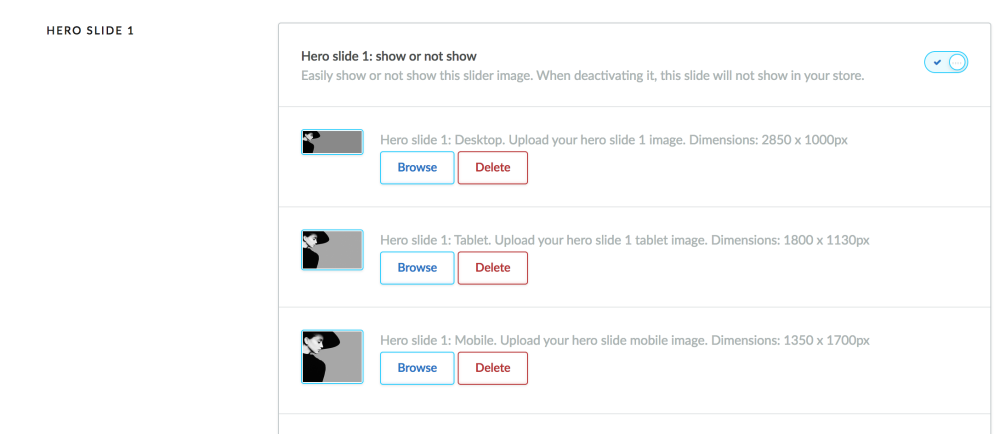 You can upload the first hero slide here. You see 3 upload buttons; these buttons are for:
Hero image for desktop ( afmeting: 2850 × 1000px )
Hero image for tablet ( afmeting: 1535 × 1000px )
Hero image for mobiel ( afmeting: 750 × 500px )
Regardless of the image you upload, you do not have to 'photoshop' text into it yourself. NB: this is possible of course! This feature can be found under 'slider settings'.
Comments
What are you're experiences?