Theme Repos
The newest theme for Lightspeed Omnichannel and eCom.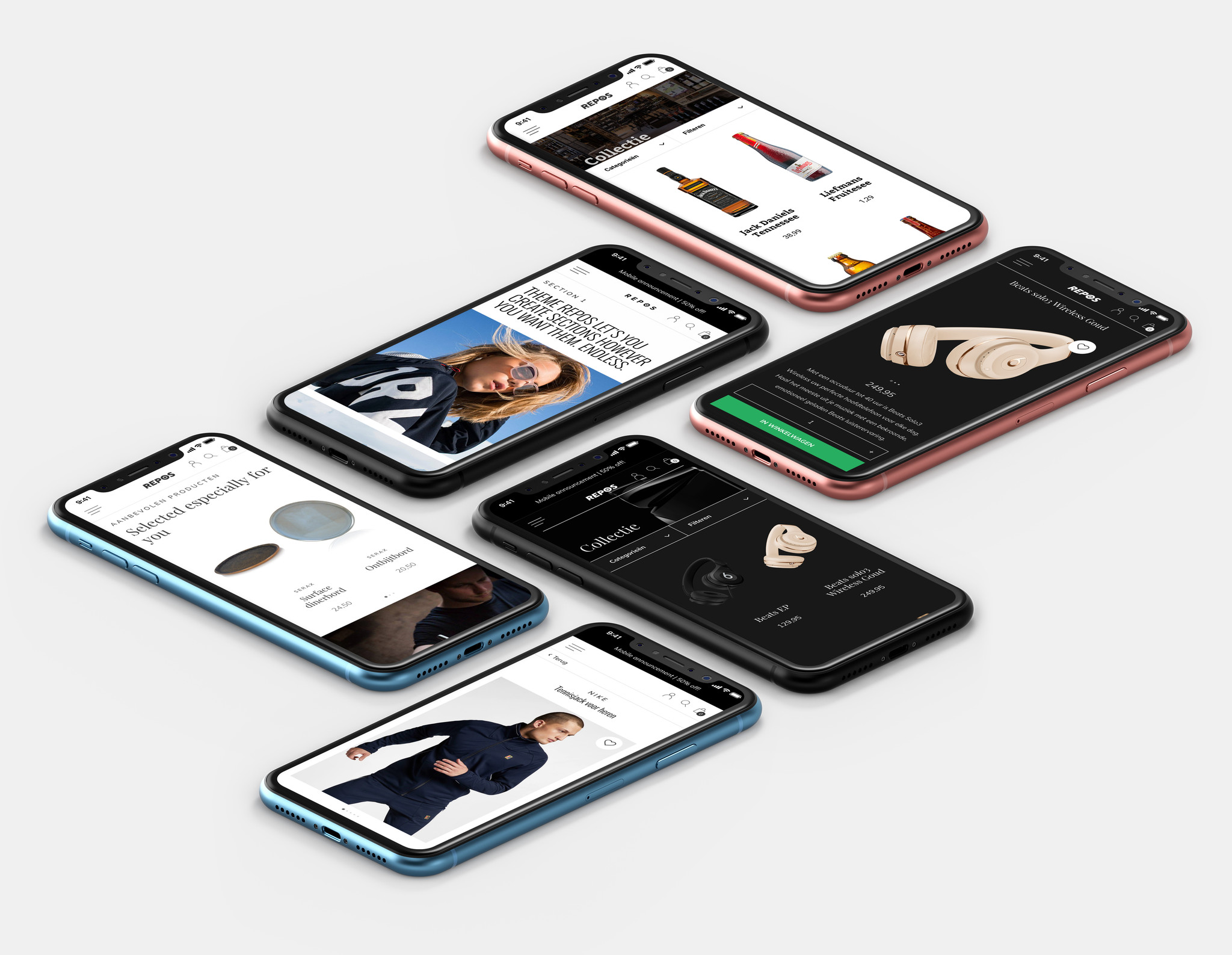 Situation 1:
You own or run a store with the best POS system available in the cloud: Lightspeed Retail, but you also sell online! 
Your Physical store strengthens your position online, and vice versa! Retailers are the future. It's easy to switch between real visitors in your store and in your online store, That's your USP. Don't forget, these are all human beings.
Let these two sales channels fuse together with Theme RePOS.  Show your expertise to your online visitors, your locations, your stores, your popup store, your restaurant, the atmosphere and your impressions, let them see who you are. What's your proposition. Be special.
Situation 2: 
You run an online store in Lightspeed ECom and you're done with those standard 13 in a dozen themes. You want to shine, be something special, convey an experience to your visitors. You want to be quick, sell information, tell a story. Different than others but still familiar. Theme Repos is also specially created for this Etailers.
Situation 3:
You own or run a store with the best POS system available in the cloud: Lightspeed Retail, but you don't sell online. You should, that's for sure! But:
Some retailers don't. For you we also invented Theme RePOS. Easily transform it into a website. When you do decide to go sell online. Easily switch
On 'sell online' and we'll transfer it back into an online store. Tadaa.
 What can you expect from Theme RePOS?
• 

Appearance like never before. Corporate, Chic, sophisticated and all the tools to express yourself

• 

A Google page speed Insights from 95/100 (Mobile/desktop) 

• 

Extreme speed

• 5k High Res upload images

• 

Animated GIF images, PNGs

• Free Design service from DMWS

• 

Very, very, very nice product page

• 

Split your online store part

 

and the website (productselling / storytelling)
• Instagram feed on every page (lightning fast)

• 

Easily create your own landing pages for products, your store, promotions
• Locations Page
• Events Page

• 

Wonderful service page

•

Tell your story in a stylish blog (full width)
Image Repos from Theme Repos
All images within Theme Repos have no fixed proportions, because Theme Repos is fully responsive. Scales, for example, depending on the screen size and aspect ratio chosen, and serve as a background image. The images are scaled so that, for example, with a smaller aspect ratio, parts are cut off.
For that reason, we recommend that you do not include any text in the image, but use the text fields in the settings. We also recommend that the most important content in the image be centered as much as possible and that a minimum width of 2,500 pixels is used, so that large images are also displayed properly on large screens. In addition, you determine the final size of the image yourself. For mobile and tablet in a standing ratio, we have also created separate input fields for the headlines. Here too, there is no fixed ratio, but you can use 800 x 600 pixels as a starting point.